Our Mission
The Academic Partnership Engagement Experiment has the mission to connect universities, businesses and the government; build collaborations between these sectors; identify transformational operational defense solutions and capabilities through their collaboration; and advance defense technology development for the Department of the Air Force.
Our Vision
The APEX program will expand the Department of the Air Force's scientific presence, enhance access to top national and global talent, advance innovative workforce development, increase technology transfer opportunities and create a robust pipeline of technology-proficient airmen.
APEX is accomplishing its mission by:
Expanding the Department of Defense's scientific presence.
Cultivating partnerships, networks, idea pipelines and other initiatives, and increasing technology transition opportunities.
Collaborating with other Department of the Air Force and DoD Partnership Intermediaries to assist in training and the rapid transfer / transition of technology.
Facilitating technology transitions out of academia to industry and small businesses participating in the U.S. Air Force Small Business Innovation Research (SBIR) / Small Business Technology Transfer (STTR) program and U.S. Air Force Technology Transfer and Transition program.
Facilitating Blue Sky events to drive out-of-the-box, long-term technology visions linked to real world, gap-driven challenges involving industry, academia and government participants.
Facilitating challenge problems to assist with collaboration between the Department of the Air Force, academia and major contractors and their supply chains.
Developing and utilizing data analytics to identify academic and business partners, and map technology areas of interest to the Department of the Air Force.
Networking with small businesses, universities, university spin off companies and major and minor DoD contractors.
Assisting with building relationships between small businesses, universities, university spin off companies, and major and minor DoD contractors and rural and underserved universities and small businesses.
Assisting the Department of the Air Force with personnel exchange programs with academia to foster collaboration, sabbaticals or visiting researcher programs.
Publicizing and promoting Department of the Air Force successes featuring Technology Transfer and Transition and SBIR / STTR programs' initiatives.
Maintaining Operations Security consistent with all applicable DoD policies to protect sensitive unclassified and other information and resources produced by acquisition and technological security efforts.
Exercising granted authorities to support agile practices.
APEX integrates stakeholders and processes into a systematic, repeatable operation that spans the science and technology lifecycle and is designed to maximize probability of transition.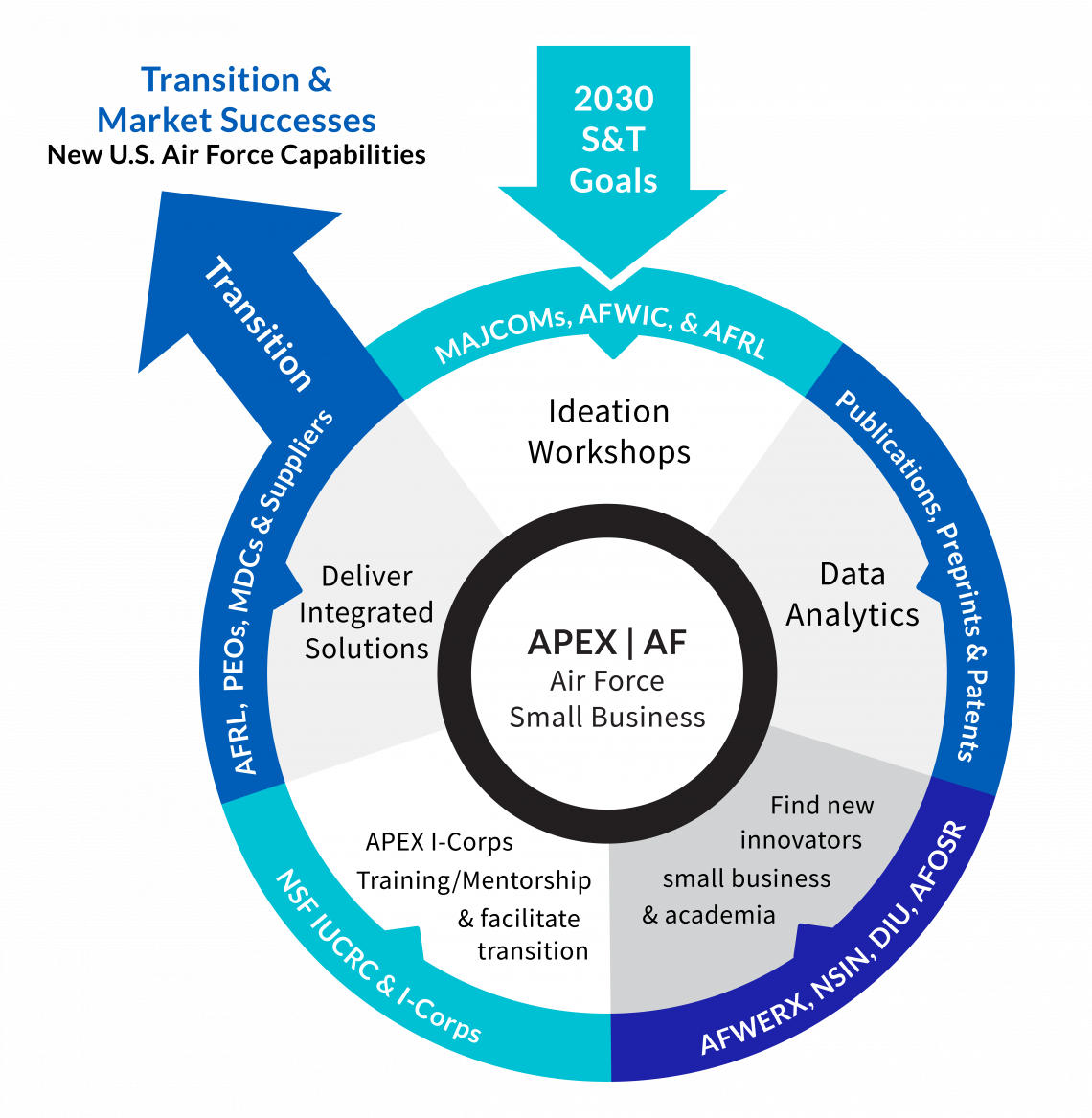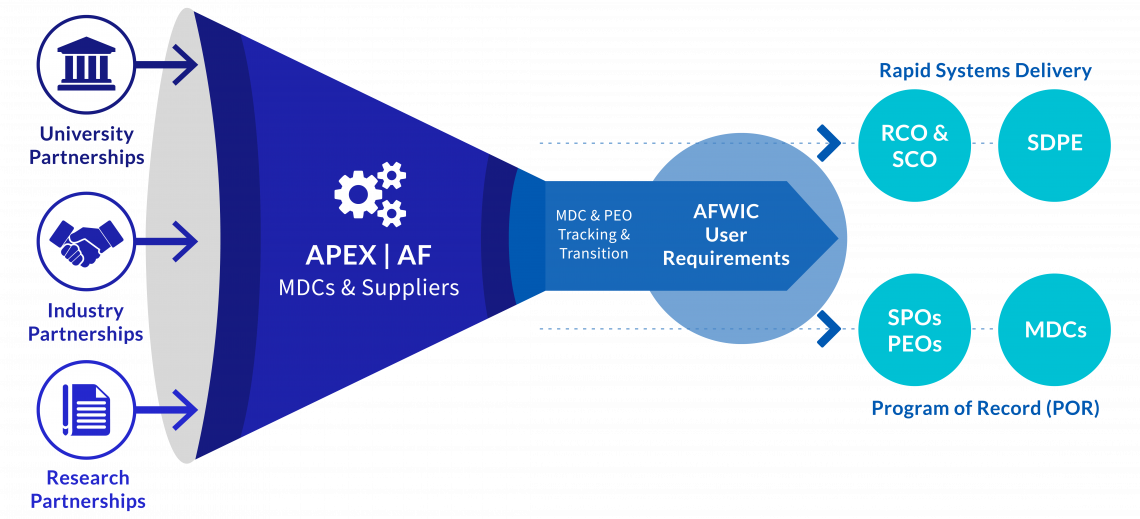 Connect · Educate · Enable
Our Team
The APEX team is comprised of serial entrepreneurs, retired military members, scientists, academic researchers and former DoD executive leaders. Our standard for excellence is built on the diversity of our backgrounds that have afforded us a deep understanding of the importance of the APEX mission.
Contact us for more information about the APEX program.