Event status
Confirmed
for
Monday, September 20, 2021 - Thursday, September 23, 2021
Body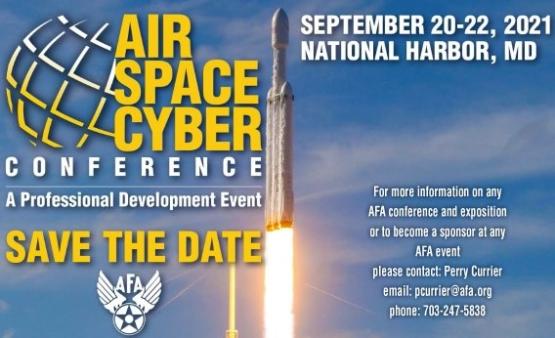 AFA's Air, Space, & Cyber Conference is the leading professional development event for Air Force and Space Force officers, enlisted members, civilians, veterans, and defense industry leaders and representatives. Our conference brings together top Air Force and Space Force leadership, industry experts, and government officials to discuss challenges facing the...
Event status
Confirmed
for
Monday, September 20, 2021
Body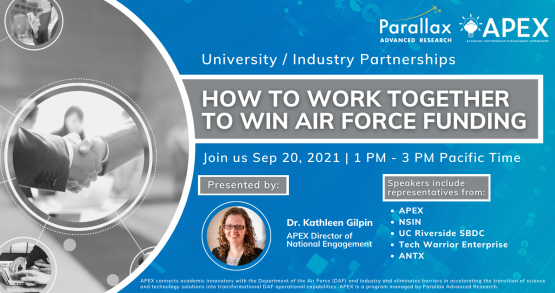 Dr. Gilpin, APEX National Outreach Director, invites you to connect with organizations in the Pacific and Pacific Northwest regions.
Event status
Body
The AFVentures team is excited to bring another series of topics to small businesses and government representatives. The series is designed to educate and provide insight on how the AFWERX SBIR / STTR Open Topic process operates. Join us every Thursday at 12pm ET. 
Sept. 23rd     STTR
Sept. 30th  ...
Event status
Confirmed
for
Monday, October 18, 2021 - Thursday, October 21, 2021
Body

The AI TechConnect Conference Series is specifically focused on connecting emerging tools and platforms with industry needs and the global innovation ecosystem. This community converges research, corporate, and government leadership seeking solution providers for their sector specific dataset challenges. The TechConnect Conferences are placed within exiting industry and research events...
Event status
Confirmed
for
Tuesday, October 19, 2021 - Friday, October 22, 2021
Body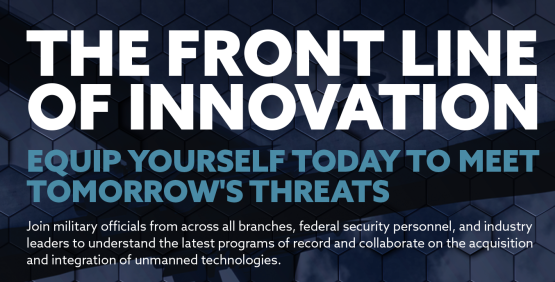 AUVSI Unmanned Systems Defense (USD) is where military leaders and industry executives set the course for innovation to support critical missions. This specialized program equips the armed services and their partners with the information and relationships they need to meet constantly shifting threats around the globe. Engage with decision makers...
Event status
Body
SpaceCom, the Global Commercial Space Conference and Exposition, is the leading annual event that mobilizes an elite group of professionals that are serious about the business of space. Join thousands of the world's top space professionals from more than 50 countries for 8 riveting days of unprecedented innovation, superior thought-leadership...