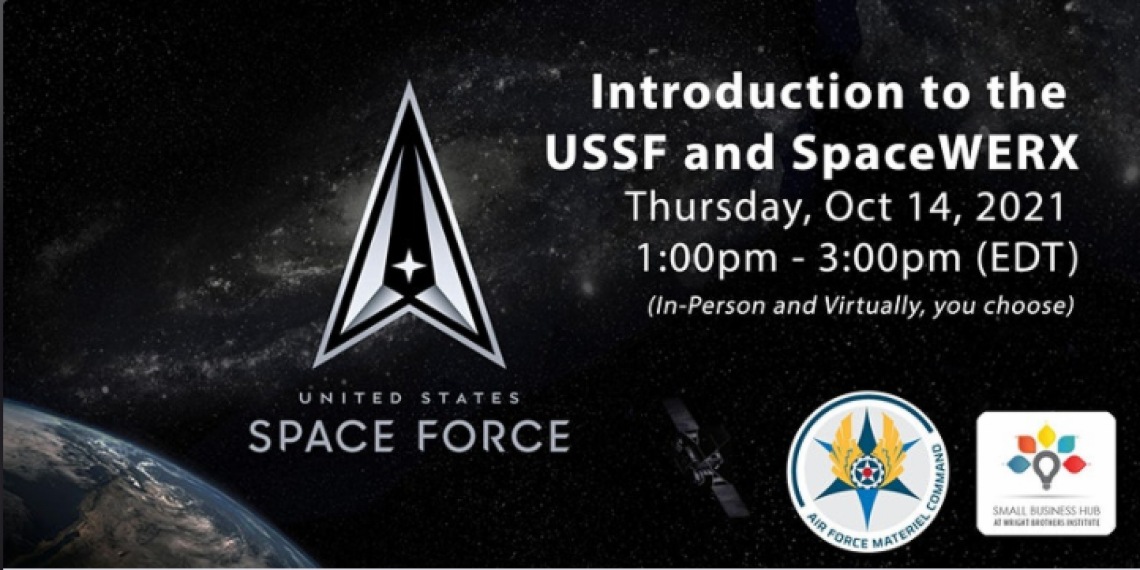 Event status
event ended
Confirmed
for
Thursday, October 14, 2021
NOTE: Currently this event will be a Hybrid Event - In-Person at WBI - 444 and Virtual - but this could change to solely Virtually due to C19. The SB Hub will let everyone know as we get closer to the event date. When registering please indicate if you will be In-Person or Virtually.
Collider Overview:
The Small Business Hub has partnered with the AFMC/SB, SAF/SB, SpaceWERX, and Space Systems Command Small Business Office to bring you an introduction to the USSF and SpaceWERX. Don't miss this opportunity to learn about the newest branch of the Armed Forces – the United States Space Force (USSF) and SpaceWerx.
The USSF was established in December 2019 with enactment of the Fiscal Year 2020 National Defense Authorization Act. The USSF was established within the Department of the Air Force, meaning the Secretary of the Air Force has overall responsibility for the USSF, under guidance and direction of the Secretary of Defense.
SpaceWERX: the US Space Force's (USSF) affiliated arm of AFWERX. SpaceWERX is expanding the space and industrial base by forming collaborative partnerships between the military's operational experts and the top innovators in industry and academia, leveraging commercial investment, and rapidly pursuing new space technologies. SpaceWERX is headquartered in Los Angeles and operates globally.